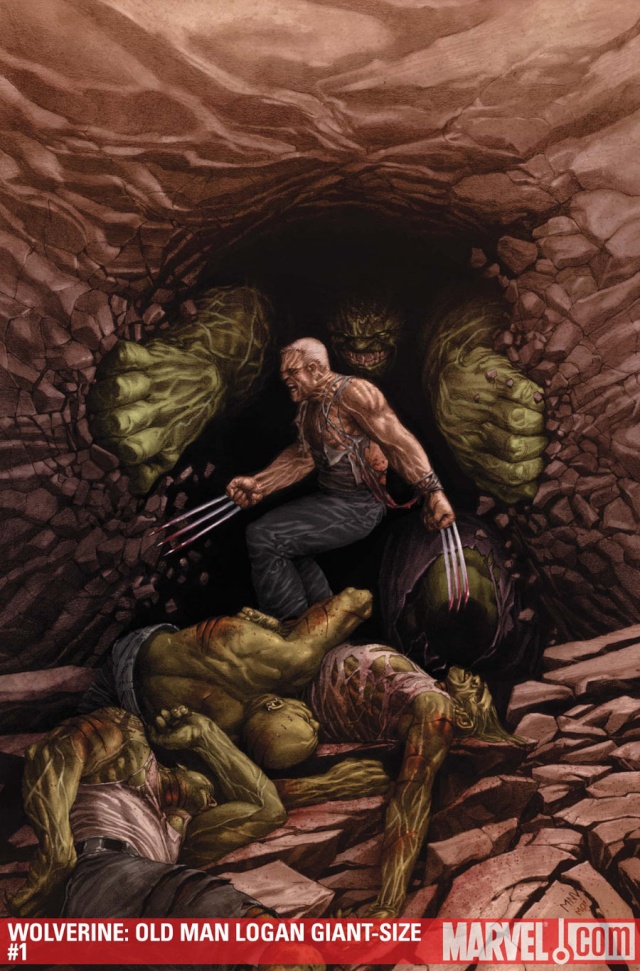 WOLVERINE: OLD MAN LOGAN GIANT-SIZE #1
Written by MARK MILLAR
Pencils & Cover by STEVE MCNIVEN
This is it! The moment you've been waiting for! Prepare yourselves for the most brutal battle in the history of comics as Wolverine returns-- and unleashes a tidal wave of bloody revenge! It's Wolverine versus the Hulk Gang to the death! Don't miss the flesh-rending final chapter to the greatest Wolverine story ever told by the peerless Mark Millar and Steve McNiven! Plus--you won't be able to tear yourself away from the gallery of covers, background material, behind-the-scenes extras, and all-new pinups that fill out this GIANT-SIZE SPECTACULAR!

Génome X




Date d'inscription

: 02/05/2009



C'est une peu le bordel, le rhytme de parution de Wolverine....
Alors, pour ceux qui ont pas suivi, il s'agit de la conclusion de l'arc Old Man Logan, donc ce numéro fait suite à Wolverine 72.
Et pour rappel, l'ordre de parution de l'époque: 70, 71,
73, 72
, 74..... (Avec 72 suivant directement 71, et 73 et 74 faisant un tout...)
La justification: retard pour l'arc Old Man Logan qui a amené jusqu'à la sortie du film avant la fin de l'arc, les numéros 73-74 devant être indépendants et concorder avec la sortie du film, et destinés aux personnes qui ont vu le film mais qui n'achètent pas de comics habituellement. Le numéro 75 et les suivants devant s'inscrire dans le cross Dark Reign, il y a plus trop le choix....
Du coup, on finit l'arc 'Old Man Logan' comme on peut....
Très belle cover en tous cas


Starhawk




Date d'inscription

: 10/05/2009



Parfaitement daccord avec toi, Starhawk: cette cover est superbe!!!!

Gosamyr




Date d'inscription

: 05/04/2009




---
Permission de ce forum:
Vous
ne pouvez pas
répondre aux sujets dans ce forum