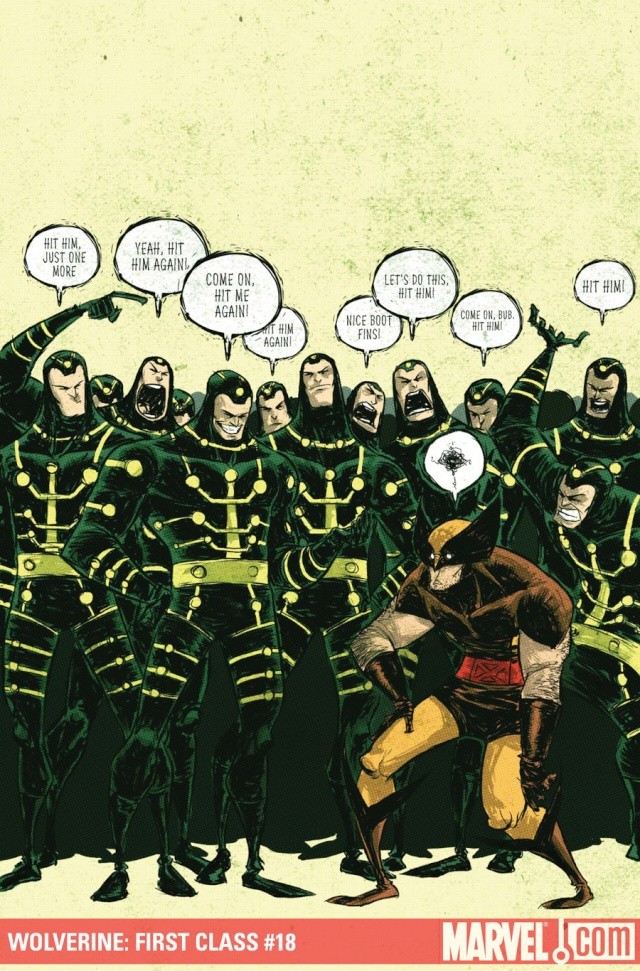 WOLVERINE FIRST CLASS #18
Written by PETER DAVID
Penciled by FRANCIS PORTELLA
Cover by SKOTTIE YOUNG
70th Frame Variant by TAKESHI MIYAZAWA
Wolverine and Kitty Pryde have had their disagreements in the past, but when Jamie Madrox, the Mutliple Man, shows up, they wind up on opposite ends siding with the same person! When one of Jamie's duplicates goes on the run, Kitty decides to help him escape from his creator. Logan sides with the original Madrox...but if he thinks he can stop Kitty from speaking her mind, he doesn't know teen girls very well!
Simpa comme idée de scénario.

Génome X




Date d'inscription

: 02/05/2009



Moi je trouve pas. Kitty a jamais rien eu avoir avec Madrox... Quelle idée de merde ces First Class...

Quel malheur de gâcher le talent de PAD sur cette série, j'espère que ça n'aura pas de repercussions sur son travail sur X-Factor...

Variant cover par Takeshi Miyazawa
Dommage pour la frise...

Blackbolt




Date d'inscription

: 01/06/2009



Blackbolt a écrit:

Dommage pour la frise...
Signer Jim Cheung en plus !

Il est vrai que c'est desesperant de voir PAD sur cette série...

Mister B




Date d'inscription

: 18/05/2009


Age

: 24



Totalement. Plus vite cette série sera terminée, mieux ce sera.

---
Permission de ce forum:
Vous
ne pouvez pas
répondre aux sujets dans ce forum