Dernière édition par Mr Terrific le Dim 3 Mar - 3:00, édité 2 fois
Written by DAN DIDIO
Art by BRENT ANDERSON and SCOTT HANNA
Cover by BRENT ANDERSON
On sale SEPTEMBER 5 • 32 pg, FC, $2.99 US • RATED TPhantom Stranger after the FREE COMIC BOOK DAY story!
• Who has been sacrificed? Who is guilty? Who can save us? And who…is The Phantom Stranger?
• Major players in The New 52 will be introduced in these pages!
Phantom Stranger 1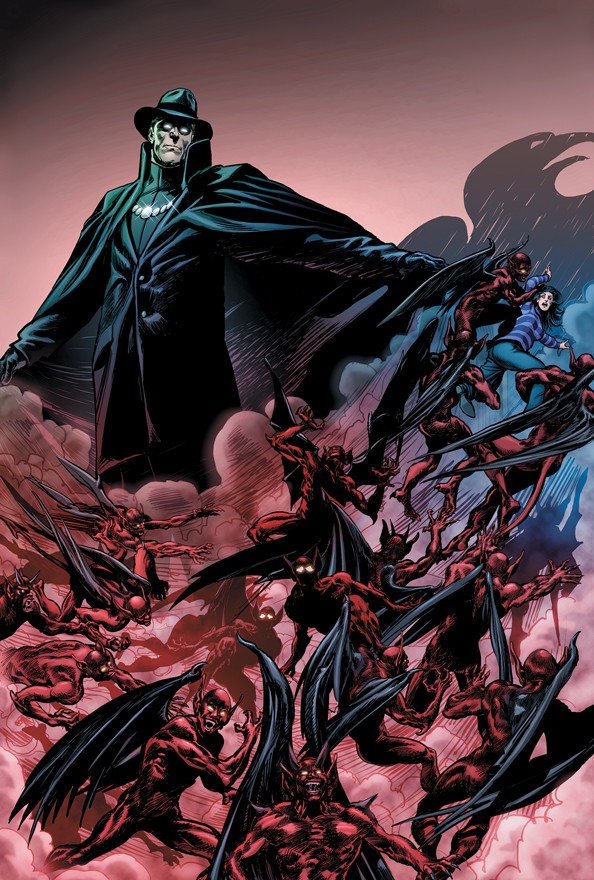 Written by DAN DIDIO
Art by BRENT ANDERSON and SCOTT HANNA
Cover by BRENT ANDERSON
1:25 Variant cover by SHANE DAVIS
On sale OCTOBER 3 • 32 pg, FC, $2.99 US • RATED T
• An all-new series focusing on secrets of The New 52 you never imagined!
• The Phantom Stranger strikes a bargain with Lord Trigon that will have serious repercussions in the DC Universe!
• From afar, Pandora watches!
Seul comics commençant réellement au zéro. Il y a vraiment des moment intéressant. Jusqu'a ce que la fin n'arrive. Là j'ai trouver ça très "what's the f... ?"
Du coup je ne suis pas convaincu. Je vais attendre le numéro 1 mais si c'est pareil je risque d'arrêter le titre rapidement.
Dommage parce que coté dessin c'est vraiment sympathique.
Si j'aime beaucoup la nouvelle version de Raven, je ne peux arriver à suivre un traitre.
Car si dans le premier le Stranger ignorait le rôle qu'il avait à jouer, ici il l'accepte (En se convaincant que c'est pour le mieux).
Trigon et le culte de Brother Blood sont de nouveau liée ensemble. Et le dessines et magnifique.
Mitigé donc par ce comics définitivement pas comme les autres

Mon dernier numéro sur cette série ... Si, si ... Enfin jusqu'à ce que Trinity War l'implique ...
Le plus drôle et que j'ai faillit avoir un doute sur le fait de continué ou non. Car c'est le premier numéro ou je me sens proche du héros, ou du moins interpeller par ce qui lui arrive. Mais c'est surtout pour sa famille que je m'inquiète.
En un seul numéro, il aura été déranger par trois personnages différents dans ce qu'il pensait être une vie protéger qu'il s'était construite.
Et puis Bret Anderson est vraiment un artiste surperbe à lire.
Devient
Trinity of Sins : Phantom Strangers


Sujets similaires
---
Permission de ce forum:
Vous
ne pouvez pas
répondre aux sujets dans ce forum