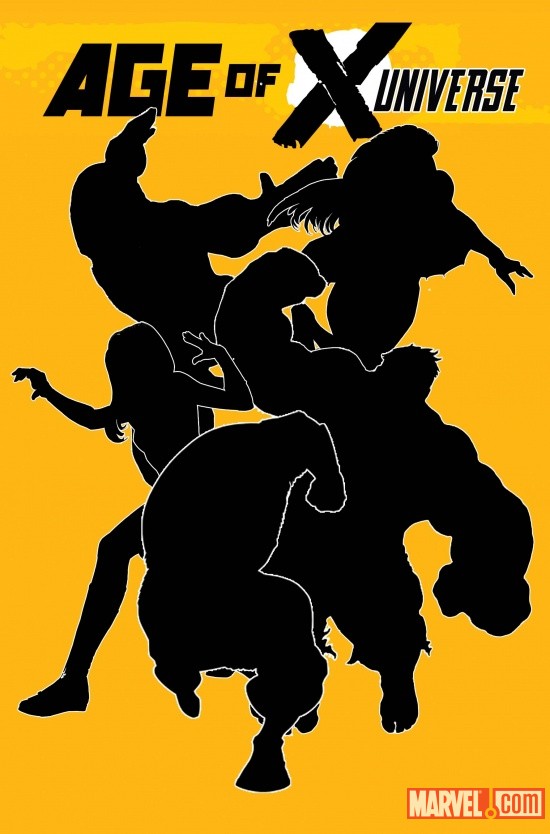 AGE OF X UNIVERSE #1 (of 2)
Written by SIMON SPURRIER
Penciled by KHOI PHAM
Cover by SIMONE BIANCHI
Rated T+…$3.99
ON SALE IN MARCH

Next year's most talked about X-Men event gets bigger this March with Age Of X Universe #1 (of 2), from writer Simon Spurrier (Silver Surfer: In Thy Name) and superstar artist Khoi Pham (Chaos War). In the Age Of X, the mutants of the world never banded together to form the X-Men. But what of the Earth's other heroes? In a world without X-Men…a world without hope, what side do the Earth's Mightiest stand on? See the story of Marvel's greatest heroes through new eyes as the future of mankind is decided in Age Of X Universe #1!
Bon, il peut y avoir des surprises comme pour le côté mutants, mais ça ressemble beaucoup à Cap America, hulk, Spider Woman, Iron Man et...?
_________________

Mugiwara

Modérateur




Date d'inscription

: 05/04/2009


Age

: 40




Mister B




Date d'inscription

: 18/05/2009


Age

: 24



AGE OF X UNIVERSE #1 (of 2)
Written by SIMON SPURRIER
Penciled by KHOI PHAM
Cover by SIMONE BIANCHI
And there came an Age Of X, an age unlike any other, where there were no X-Men…mutants were hated and feared. In that age, the remaining mutants created a stronghold, a last bastion for their dying race: Fortress X. And in that Age Of X, when humanity vowed to see Fortress X destroyed, a team of heroes and heroines found themselves united against this terrible mutant threat. This is their epoch!
40 PGS./Rated T+…$3.99
NOT ACTUAL COVER
_________________

Mugiwara

Modérateur




Date d'inscription

: 05/04/2009


Age

: 40




---
Permission de ce forum:
Vous
ne pouvez pas
répondre aux sujets dans ce forum