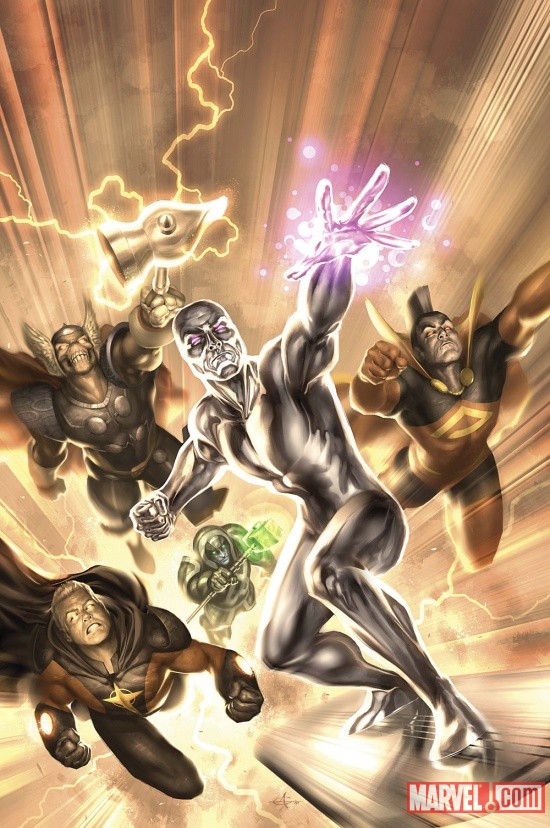 ANNIHILATORS #1 (of 4)
Written by DAN ABNETT & ANDY LANNING
Pencils by TANG ENG HUAT & TIMOTHY GREEN II
Cover by ALEX GARNER
Variant Cover by MIKE MIGNOLA
Rated T+…$4.99
ON SALE IN MARCH!
The Silver Surfer! Beta-Ray Bill! Gladiator! Quasar! Ronan the Accuser! The greatest heroes of the cosmos join forces this March in the oversized Annihilators #1 (of 4)! Marvel's space action masters Dan Abnett and Andy Lanning, along with Eisner Award winning artist Tan Eng Huat unveil the only team mighty enough to face the Dire Wraiths! With galactic civilization in disarray after The Thanos Imperative, the Annihilators must band together to prevent the sinister shape-shifting horde from destroying the universe itself. Innocent worlds teeter on the precipice of destruction…so it's time for the best of the best to unite and unleash righteous justice!
http://robot6.comicbookresources.com/2010/12/abnett-and-lanning-to-assemble-marvels-annihilators-in-march/
Les Annihilateurs sont là pour remplacer les GoG et Nova.
Il s'agira d'histoires complètes de 40 pages (doù le prix)
Equipe bien ennuyeuse comparée aux Guardiens. Mais bon, c'est la crise, il faut des gros balèzes et des vedettes pour vendre. Bref, des vieux machins.
_________________

Mugiwara

Modérateur




Date d'inscription

: 05/04/2009


Age

: 40



Ce qui m'intéresse le plus, c'est le back-up avec Rocket Racoon et Groot...

Mister B




Date d'inscription

: 18/05/2009


Age

: 23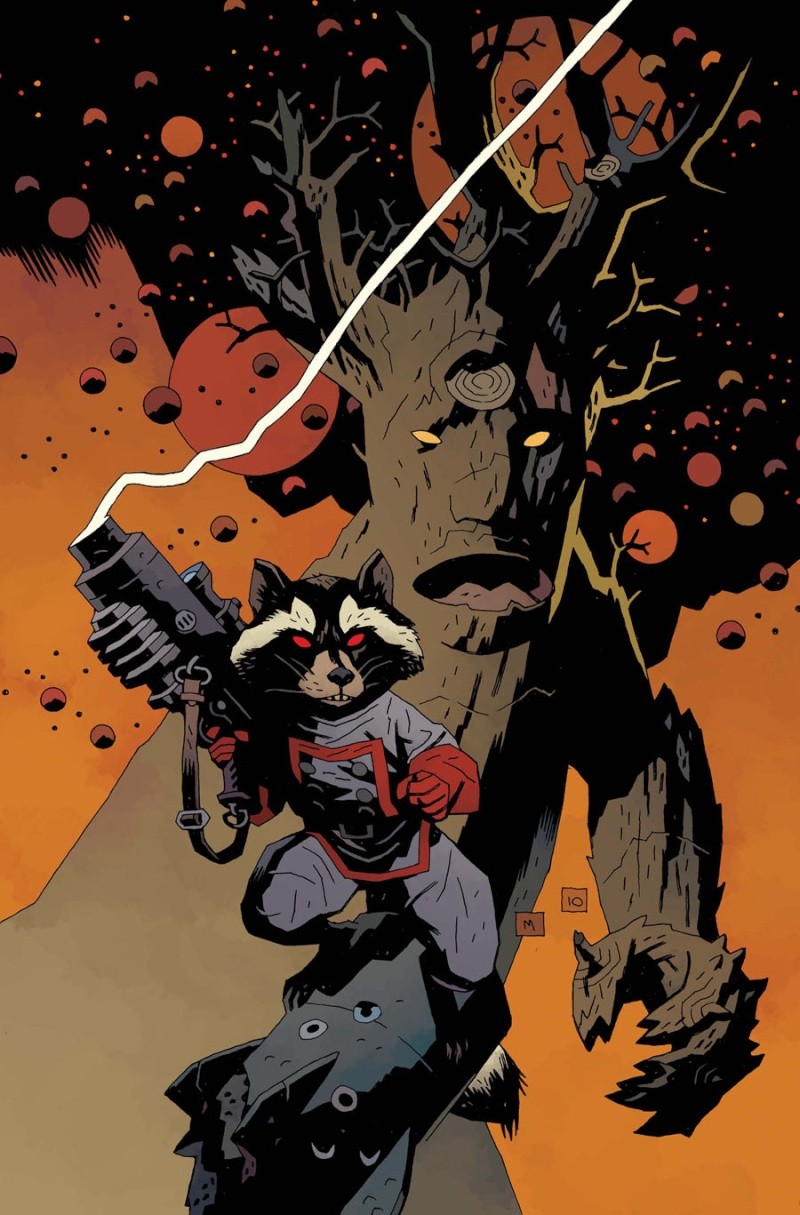 ANNIHILATORS #1 (OF 4)
Written by DAN ABNETT & ANDY LANNING
Penciled by TAN ENG HUAT & TIMOTHY GREEN II
Covers by ALEX GARNER & MIKE MIGNOLA
Because you -- yes,you! -- demanded it: Marvel's all-star cosmic team – and cult faves Rocket Raccoon & Groot – in one massive mini! The Silver Surfer! Beta-Ray Bill! Gladiator! Quasar! Ronan! When the Dire Wraiths strike, Cosmic Masters DnA (THE THANOS IMPERATIVE, THOR/IRON MAN) and Tan Eng Huat (SILVER SURFER, THOR: FIRST THUNDER) assemble the heaviest hitters in all the universe to save the day! And there's more! Plus: the demented duo of Rocket Raccoon and Groot return for their own, new-reader-friendly adventure! What do you do after you've saved the galaxy? DnA and the fabulous Timothy Green II (STAR-LORD) answer that with madcap SF combat and swashbuckling, space-faring mayhem!
48 PGS./Rated T+ …$4.99
_________________

Mugiwara

Modérateur




Date d'inscription

: 05/04/2009


Age

: 40



ANNIHILATORS #1 (OF 4)
Written by DAN ABNETT & ANDY LANNING

Penciled by TAN ENG HUAT & TIMOTHY GREEN II

Covers by ALEX GARNER & MIKE MIGNOLA

Because you -- yes,you! -- demanded it: Marvel's all-star cosmic team – and cult faves Rocket Raccoon & Groot – in one massive mini! The Silver Surfer! Beta-Ray Bill! Gladiator! Quasar! Ronan! When the Dire Wraiths strike, Cosmic Masters DnA (THE THANOS IMPERATIVE, THOR/IRON MAN) and Tan Eng Huat (SILVER SURFER, THOR: FIRST THUNDER) assemble the heaviest hitters in all the universe to save the day! And there's more! Plus: the demented duo of Rocket Raccoon and Groot return for their own, new-reader-friendly adventure! What do you do after you've saved the galaxy? DnA and the fabulous Timothy Green II (STAR-LORD) answer that with madcap SF combat and swashbuckling, space-faring mayhem!

48 PGS./Rated T+ ...$4.99

Fred le Mallrat




Date d'inscription

: 08/04/2009


Age

: 44


Localisation

: Bordeaux





Sujets similaires
---
Permission de ce forum:
Vous
ne pouvez pas
répondre aux sujets dans ce forum